White denim. Not something I usually gravitate to, much less thought I would ever be remixing. When it's a jacket made from white denim (excuse me, ecru) it just happens to become my new favorite layering piece. Denim jackets are staples and what's more summer than white denim? Therefore I now have a justifiable summer staple! Thankfully, it's not pants so there's less of a chance for me to sit in something.
For all intensive purposes, this week's outfit and last weeks outfit are pretty much the same. This outfit also features some heavily remixed items, like the dress, belt, and scarf. To me, that just proves these items immense wearability and value to me in my closet. It could also be that belting a shirtdress is the only sensible option in this heat and humidity. Oy! It's been brutal these past two weeks. Thus why the jacket is actually off in the last picture. It's perfect for layering on at the office though, or protecting somewhat from the surprise late summer thunderstorms that are common in the South.
This was the first time I wore the calf hair martinas too. Oh are they amazing. I've worn them at least once a week since then and they sit on a bench in my bedroom so I can look at them every day. I think I'm in love!
Do you have a white denim jacket? How do you style it? How do you keep coffee off of it? But seriously…
Linking up with:
Lauren at Fizz and Frosting
And Marissa at The Modern Austen
Jen at Fashionably Employed
Linking up tomorrow with
This week's theme is stripes!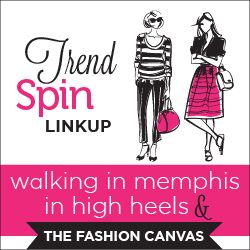 **this post contains affiliate links**