DIY Day: Create a qr code for your wifi password and GIVEAWAY winner!
First things first, congratulations to Melodie! (IG @Melodie_time) Follow #1photo10ways on instagram to see what Melodie creates and what other students have created in the Love Photo Apps class! Thanks to all that participated. Another giveaway is coming up VERY soon!
These past few days I've had a lot of time at home, which is wonderful. I've had time to get so much done! Moving furniture, cleaning, getting ready for guests. I only just realized that since the last time most of our friends visited, we had to get a new wireless router and it came with new passwords. So I went hunting for an easy way to share the password information with our guests and I found the idea for creating a QR code to scan that would display the password information. The idea was just too good to not share!

It's really simple! Here are the steps: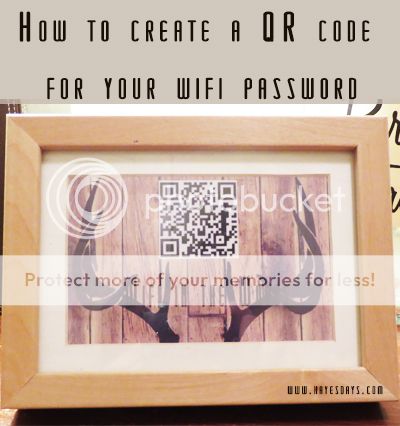 First, write down your SSID (the name of your network) and your network password
Go to http://zxing.appspot.com/generator/ Its the generator I used.
Select Wifi network from the contents drop down box
Enter the SSID and Password information in the appropriate fields
Click Generate
It will generate a code for you just like this:
The website will give you the option to save or embed it. I saved mine and used Illustrator and Photoshop to create and print the picture in the first image and put it in a frame in my foyer. All your guests need is a regular qr scanner reader app to scan the code and your wifi password will pop up! I recommend
this
QR code reader and scanner app. It's a simple app and it works fast and displays the information in a clean look like this:
(Yes, that is my actual password and no, I didn't come up with it.)
Like I said, it's surprisingly simple. How do you manage the "what's your wireless password!?" chaos at your house?